...AND THAT'S WHY WE CALL IT A LUNKER BURGER
Sweet? Or Unsweet?
IS IT A CATFISH DAY?
THANKS FOR VOTING US BEST FRIED PIE!!
MIGHT WANNA EAT YOUR DESSERT FIRST
About Us
Our old-fashioned burger joint is located in a grill that started way back in 1896. We've honored those century-old traditions, serving only local, farm-raised beef, rolling out fried pies by hand, baking the best desserts from scratch, and crafting French fries one potato at a time.
Visit our sister-deli "VOTED BEST REUBEN"
At our sister-deli next door, La Waffalata, our deli-meats are fresh-made. Our garlic-dill pickles are from scratch, too. And the bread? Yep. Nothing else like it. We offer organic farm to table produce, seasonally, and East Texas largest selection of GLUTEN-FREE menu items.
CHECK OUT OUR GIFT & ANTIQUE STORE
Grab a fried pie and fresh apricot iced tea. Then hunt for fun collectibles and must-haves at our antique and gift shop.
DESSERTS WITH PERKS™
Natural desserts free from soy, corn, preservatives, gums, artificial sweeteners and gluten.
THANK YOU FOR THE LOVE!
Burger Hall of Fame

The Dallas Morning News - top 5 reasons to leave D-FW

Texas Monthly Magazine (Texas destination diners)

Grammy-winner, Kacey Musgraves Hometown Hang

Best Burger Upper East Side

Best Fried Pie

Best Overall Restaurant

Best Presentation

1st Place People's Choice

Featured:

TV's "Texas Bucket List"

TV's, Extreme Makeover: Home Edition"

State of Texas "Destination Travel Video Series"

Inside the Kitchen-Outside the Box (NBC/KETK)

Dishing with Debbie (CBS/KYTX)

Numerous blogs (thank you everyone!)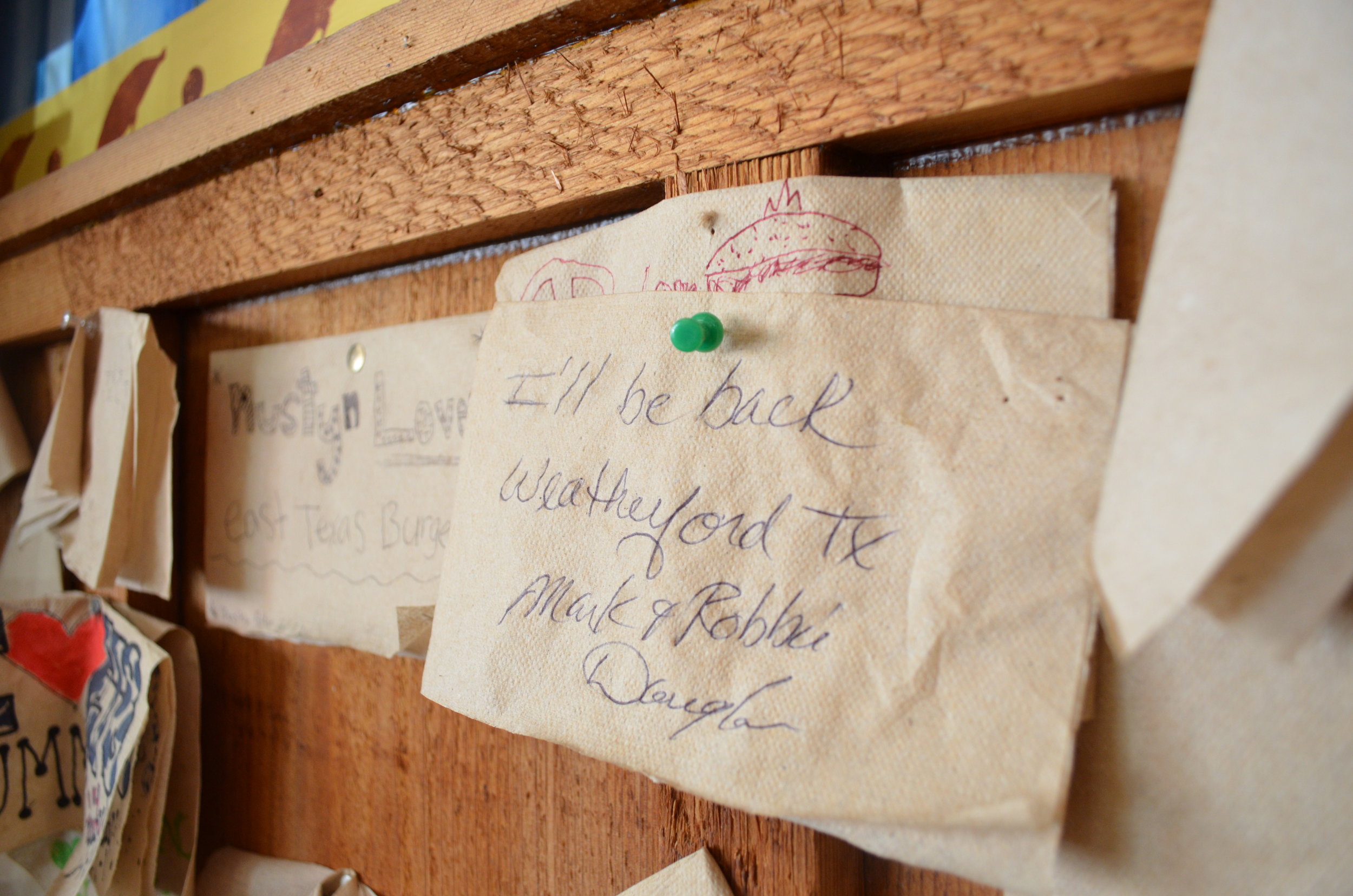 We love to hear from you!
Being voted "Best Burger" is proof that what makes a Burger great, is you. Every day is a heap of conversation with locals, tourists, and visiting celebrities. Awesome people write their story on their napkin and thumbtack it to our walls. We hope to meet you here one day. That would be really cool!!
Let us know how much you love East Texas Burger by leaving a review on Facebook or TripAdvisor!

Location
126 E. Broad Street
Mineola, TX 75773
Hours
Mon – Sat, 11 am – 8 pm
Sun, 11 am – 3 pm
Contact
(903)-569-3140
easttexasburger@yahoo.com